Last Updated on December 28, 2022 by Treana Wunsch
This is article number 13 in my How to Write an Effective Business Plan series. Each post guides you through writing a section of your business plan. I was going to write an ebook and charge for it but decided to give the information for free. It's very comprehensive and may not be free for long. 
In this article, I go over how to research and write the Risk Management Strategy section of your business plan. If you want guidance on writing your own business plan, follow the series from the beginning.
Or if you just want me to write it for you, click here.
Risk management is an important part of any business plan. Without a proper risk assessment, you may be unaware of the potential risks that could affect your business and lead to financial losses. A robust risk management strategy will help you assess and mitigate potential threats so that you can operate your business with minimal disruption.
When creating a risk management strategy for your business plan, it is critical to consider all of the possible risks involved in running your company. Start by conducting an internal assessment to identify any weaknesses or gaps in current procedures, such as personnel issues or outdated technology. Then conduct an external assessment of industry trends and changes to understand how they might affect your operations. This will ensure that you have properly addressed all areas where risks may arise.
The following are examples of risks that could cause a major disruption in your business:
Technology risks in business are an ever-growing concern for companies across all industries. With the advancement of technology comes a wide array of potential risks that need to be addressed in order to protect businesses from costly and time-consuming disasters. A comprehensive risk management strategy is essential for mitigating these threats and ensuring the safety of data, resources, and processes.
When creating a risk management strategy for your business plan, it's important to consider different types of technological risks such as hardware failures, data breaches, software vulnerabilities, natural disasters, cyberattacks, and more. Each one requires specific measures to reduce the impact on operations and create long-term solutions that will prevent any future disruptions from occurring. Additionally, it's essential to review existing policies and procedures related to technology usage throughout the company so that any necessary adjustments can be made in order to reduce risk exposure.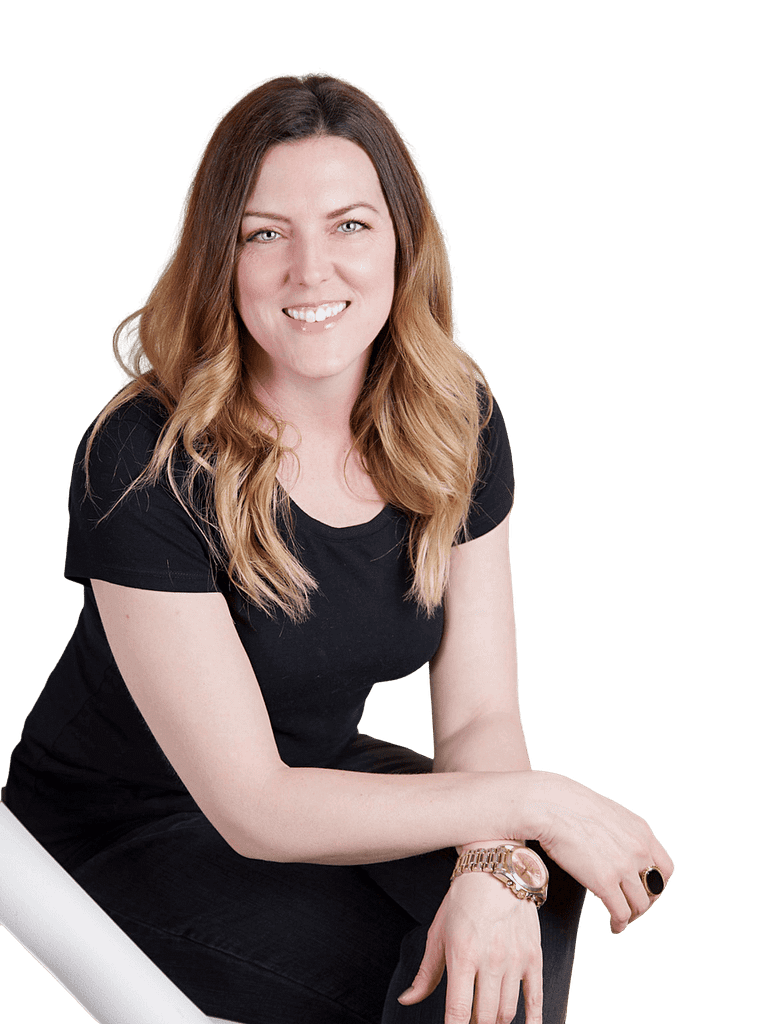 Get weekly updates on the latest posts and more from me straight to your inbox.
Good risk management is essential to the success of any business. Managing risks effectively allows businesses to develop strategies that reduce potential losses and maximize profits. However, there are several management risks that businesses should be aware of in order to ensure their success.
Management risks involve the actions or decisions taken by managers on behalf of a business. Such as strategic planning, investment decisions, personnel relations and product development. Without adequate preparation or accurate forecasting, these decisions could result in financial loss for the company or damage its reputation. Therefore, it's important for businesses to evaluate all aspects of their operations and devise a comprehensive risk management strategy that identifies potential issues before they arise.
Financial risks play a major role in the success of any business. They can be the difference between making a profit or incurring losses, so it's critical for business owners to understand and assess their financial risk. Having a sound risk management strategy is necessary for businesses to properly plan for potential financial risks and minimize their effects. In this article, we will discuss how to write an effective risk management strategy for your business plan.
The first step to creating a successful risk management strategy is identifying any potential risks that may affect your business operations or finances. This includes assessing external factors such as changes in economic conditions and internal factors such as resource constraints and personnel issues. It's important to take into account all of these variables when determining possible financial risks so you can make informed decisions about how best to manage them.
Production risks in business are a major factor that must be considered when writing a risk management strategy for your business plan. All businesses have the potential to experience some type of production risk, and this should be taken into account in order to devise a comprehensive risk management plan.
Production risks can vary greatly depending on the type of business, and include operational issues such as unexpected downtime due to equipment failure or inadequate staffing levels, supply chain disruptions due to supplier delays or quality control problems, or regulatory changes that impact how you operate. Understanding these potential risks is essential for developing an effective risk management strategy that enables your business to stay ahead of potential issues and reduce their impact on operations.
By having a well-thought-out strategy that addresses each possible risk area you can help ensure your business has the resilience needed to weather any future challenges and remain competitive in today's ever-evolving marketplace.
Personnel risks in business are an important component of a risk management strategy for any business plan. Human resource risks refer to the potential for unforeseen losses due to employee-related issues and can include everything from worker safety and efficiency, to compliance with labour laws and regulations. Understanding personnel risks is vital for managing them effectively; failure to do so could lead to costly litigation or other financial repercussions that could damage the company's reputation.
Business leaders should consider personnel risks when developing their risk management strategies, as there are several potential areas of exposure that may not be immediately obvious. While some of these risks might be applicable only in certain countries or industries, others pose a universal threat such as those related to employee health and safety or data privacy. Identifying all possible employees' liabilities and developing appropriate safeguards is essential if the business wants to limit its risk exposure.
As a business owner, it's essential to understand the risks associated with marketing your company and products. A risk management strategy is an important part of any business plan that outlines potential risks and details necessary steps for mitigating them. Knowing how to write an effective risk management strategy can help reduce potential losses or damages.
When writing a risk management strategy, it's important to consider all potential marketing risks such as budget changes, competition, customer satisfaction levels and other factors that can impact the success of your business. Factors such as customer preferences, technology advancements and industry trends should also be taken into account when creating a risk management plan. By assessing all possible scenarios ahead of time, you can create proactive strategies like staffing adjustments or product modifications in order to minimize any negative impacts on your project goals or revenue streams.
Once these assessments are complete, develop strategies for mitigating each identified risk and assign responsibility for implementation and monitoring.
Risk Analysis is an integral part of any business plan, as it helps identify potential risks and determine how to handle them to ensure the success of a business. Writing a risk management strategy for a business plan involves analyzing the risks in each area of the plan, determining which areas are most important, and implementing strategies to mitigate those risks.
In order to develop an effective risk management strategy for your business plan, it is important to evaluate both external and internal sources of risk. External sources include things like market changes or political events that could affect your profitability, while internal sources include things like employee turnover or inadequate cash flow. Identifying these risks will help you create strategies that can protect your company from potential losses due to unforeseen changes.
The first step in performing a risk analysis is to brainstorm any potential risks or vulnerabilities your company may face. These could be anything from economic downturns, changes in legislation, or competition from new rivals. Once the list of possible risks has been identified, the next step is to evaluate each one individually in terms of likelihood and impact on the organization's goals. This will help you prioritize which ones need to be addressed first and determine how much resources should be allocated for their mitigation plans.
Risk Mitigation Strategies
Risk mitigation is an important part of any business plan. It requires a well-thought-out plan with clear strategies to help minimize potential risks to the success of the business. Risk mitigation strategies can be divided into two categories: proactive and reactive strategies. Proactive strategies are those that anticipate and prepare for potential risks, while reactive strategies are those that respond to risks in order to limit their impact. By implementing these risk mitigation strategies, businesses can reduce their exposure to unnecessary losses and maximize their chances of success.
When creating a risk management strategy for a business plan, it's important to take into account both types of risk mitigation measures. Proactive steps should include identifying potential threats and assessing which ones pose the greatest risk, as well as developing plans for how best to address them.
Many companies are implementing a risk mitigation strategy that includes a comprehensive review of the organization's internal processes, procedures, and policies to identify potential risks. For example, Microsoft recently conducted an internal review of its corporate governance practices and procedures. Of course, internal audits and self-assessments are not a substitute for periodic external audits. However, they can help to identify potential risks so that the organization can take appropriate steps to mitigate those risks before an audit is conducted by an outside auditor.
A business continuity plan is an important component of any risk management strategy for a business. It ensures that the company will be able to continue operating in the face of unexpected events and disasters. A good business continuity plan should include proactive steps and strategies for minimizing potential risks, as well as a detailed response plan in case such an event occurs.
Creating a comprehensive business continuity plan requires careful consideration of the possible risks that could affect the operations of your business, including fires, floods, power outages, or cyber-attacks. For each identified risk, it's important to determine how likely it is to occur and what sort of impact it would have on your operations if it did happen. Once this analysis has been carried out, you can begin writing out strategies to mitigate or prepare for these risks.
A risk management strategy is essential for any business plan. It helps to identify potential risks and create effective solutions to protect the company's assets, financial health, and reputation. A key component of a successful risk management strategy is proper communication between all parties involved in the planning process.
An effective communication plan should ensure that everyone understands their roles in relation to the risk management strategy. It must also clearly outline who will be responsible for delivering messages between departments, as well as setting expectations around response times. The plan should also include how team members will receive updates on changes or new developments related to the risk management strategy so that everyone can stay informed at all times.
Once you've researched and developed your Risk Management Strategy, you'll need to summarize it in your business plan. Be as specific as you can. For example, list 4 – 5 major risks, how they would disrupt your business and how you plan to mitigate the risks.
You can use bullet points, charts and graphs. As long as potential investors can see that you have thoroughly planned everything out. Here is what a Risk Management Strategy might look like in a business plan. This is from my Classic Business Plan Template.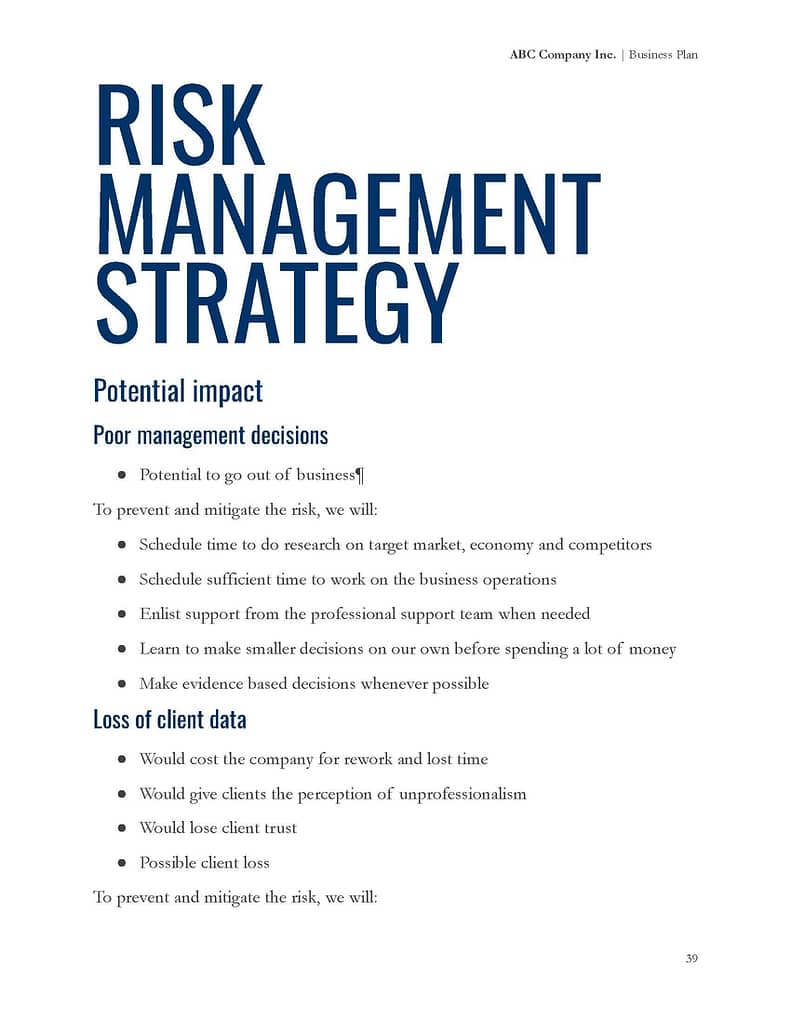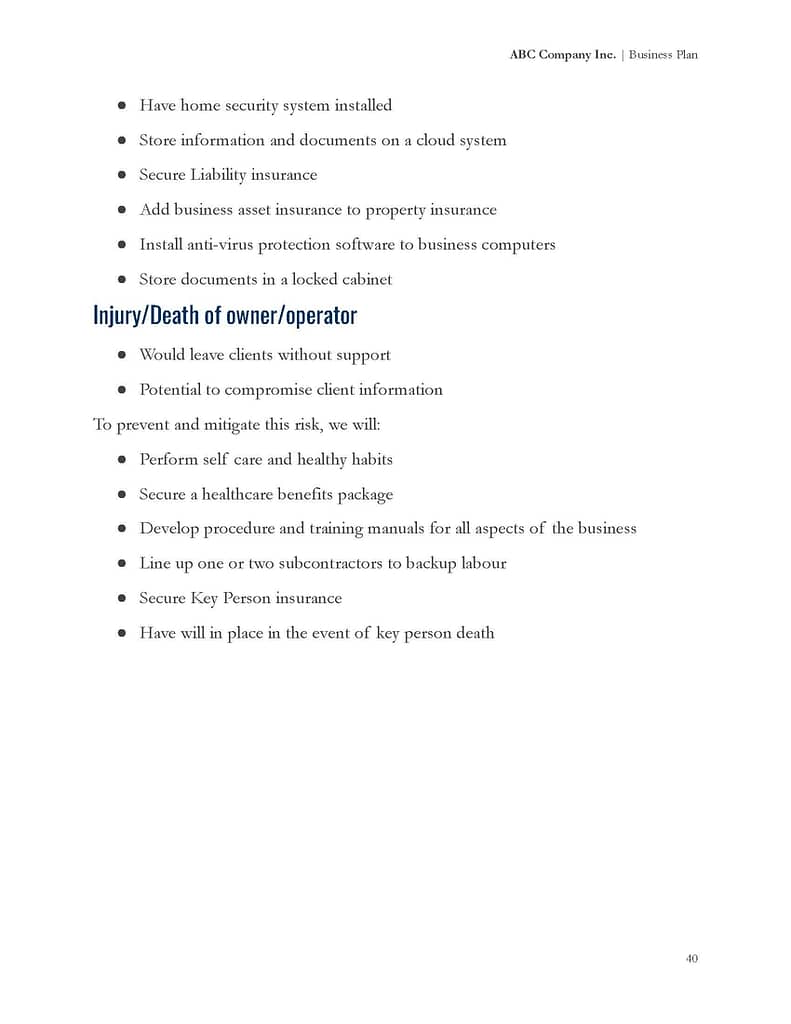 Risk mitigation strategies are essential for any business. They help protect organizations from potential threats and unforeseen disasters. Whether it be adopting new technology or investing in insurance, companies should make sure they're taking the appropriate steps to keep their operations secure. It is also important to remember that risk mitigation activities should be regularly monitored and updated to take into account changing external conditions. By taking proactive steps to reduce risks, businesses can ensure that they remain competitive and successful in the long term.
Thanks for reading!
Was this article helpful?
Did I miss anything?
Is there anything you still want to know?
Comment below!